My assignment: UI design (game and website), graphic design, logo design and HTML/CSS (Haxe/HSS).
Type: Web game – http://mush.vg/
Employer: Motion Twin.
Year: 2012.
Tools: Adobe Photoshop (pixel art and web design), Adobe Illustrator (logo design and some web elements), GraphicsGale (pixel art).
Excepting the character design, I was in charge of all the web and game graphics, including the UI and pixel art graphics. For 1 year I worked closely with the game designers Benjamin Soulé and David Elahee, both in the design and development phase. Florïn also participated as a consultant for game design and business model.
The character design was made by Mathieu Leyssenne and Gyhyom.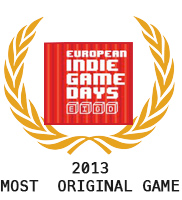 "The suspense is justified. Mush is a nasty, nasty game…it's a terrifying balancing act to keep everything in good shape. Particularly while the Mush are lurking…"

"Mush, believe it or not, is a social game and in spite of the negative connotations associated with that term, it's also bloody brilliant."
15/20

"Its complexity gives rise to initial scepticism, but MUSH quickly changes your mind with its highly involving gameplay and captivating universe."
17/20
"
With a good group, the game offers a highly playable experience where where deception and paranoia reign supreme.
"
15/20


"The aspects of community and competition with the treacherous Mush intermingle agreeably."
16/20


"If you're good at role-play games, if you like playing in a team and having fun as a group, Mush is made for you."
7.2/10